pioneer machinery
What's an energy system?
The efficiency of the energy consumption is always significant when speaking of manufacturing processes, which deeply affects the overall cost of the process itself.

Pioneer Machinery has developed an energy system model for its SmartFA platform that allows customers from the Wire & Cable industry to monitor their energy consumption.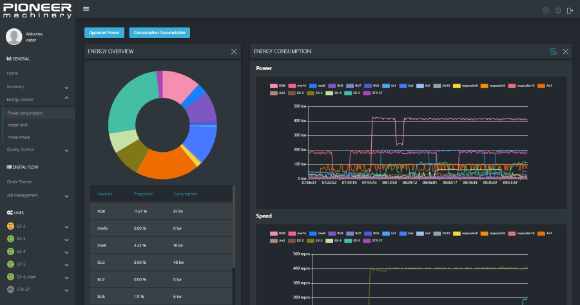 Energy consumption monitoring
With an energy system, the data of the energy usage is visualized and shown through a variety of charts. This data not only helps supervisors be able to understand the overview of the energy usage, but also allows the operators to optimize the production line into a more efficient manner.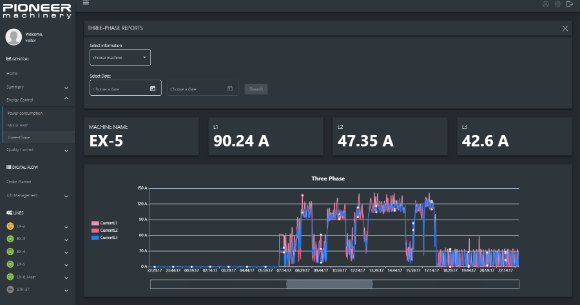 SMARTFA
As one of the SmartFA function models, data of the energy system could be gathered and built into the database for further analysis and organization. Also, through SmartFA, data of energy systems could be transferred to different models without any handicaps.
pioneer machinery
Estimate benefit
25%
cost from the energy
Using electricity when price is relevant low lets factories decrease the spent on energy consumption.
2
operators reduced 
Operators can grasp the situation of the production line with a simple glance at the user interface of the energy system
1,200Mwh
energy saved anually
By detecting the production lines with less efficiency and optimizing the manufacturing process.
16%
efficiency increase
Energy systems increase the production efficiency by letting you take adequate decisions through reliable references.
pioneer machinery
DECIDE YOUR OWN ENERGY POLICY
It is known that the price of electricity varies throughout the time. Energy system is capable of recording the spending in segments of the time, which helps decision makers decide the most efficient and economic production strategies in terms of energy spendings.